Processing…Please wait.
Search Engine Land » Channel » Content Marketing » Link Building Tool Review: Ahrefs
Ahrefs is a suite of tools that contains "the largest index of live links." There is a free version and a premium version, an API, and an affiliate program. They have their own index, putting them into the same arena as SEO Moz and Majestic, and they post some useful stuff on their internal blog digest.
Pricing starts at $79 a month and goes as high as $499 a month for more advanced plans. All plans offer a nice discount if you pay for a year upfront.
Now that the basics are out of the way I have to say that I absolutely love the Ahrefs tool. It's fast and the graphical representations are very easy to understand (even for a novice I imagine.) In this suite you'll find a Site Explorer, Keywords Analysis, Backlinks Report, Domain Comparison, Batch Analysis, and Competition Analysis tools.
For our purposes here, I'll be going through the Site Explorer, Backlinks Report, and Competition Analysis sections.
The Site Explorer gives you an overview of a domain. You can find technical site information and social signal info here as well. Once you've run a report you can access it again in the History area, which is right beside the box where you enter the URL. You get the following information on the Overview tab:
Each of the above metrics has a clickable number so that you can see more details. There is also plenty of information about your anchors here, represented in bar charts. For a chart-happy person, this overview tab is fantastic.
Take a look at just one of the reports you're given:



Up top on the Overview navigation bar, you can view the following:
As I've mentioned before in a review, having the raw data to export is critical for me with any backlinks tool.
Let's take a look at the Site Issues tab for a minute because this is the kind of thing I'd usually consult a separate tool for. You get a list of your errors like HTTP Timeouts, a list of warnings (your title text is too short, you're missing descriptions, 302 issues, etc.) and a list of notices (permanent redirects, overly long URLS.)
Considering the amount of times I've seen site problems affect a site's performance online (it's not always links, remember) I think this type of information is necessary in a link tool.
The Pages tab is also nice because of the social information you're given. Beside each page's URL, you can also access organic keywords for the page. However, in testing this section, I didn't always get social data, which was a bit disappointing.
Still, when it's working, you get information like this: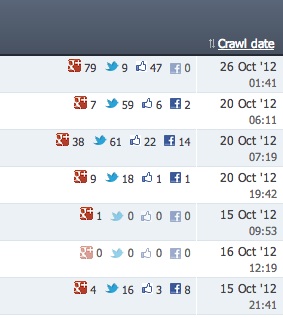 The Anchors tab allows you to see a breakdown of the number of referring domains, backlinks, and percentage for each anchor. You can click on the + button beside the anchor and it brings you to a list of the referring domains for it. You can also filter the anchors by how many words are in the anchor.
The New/Lost tab graphically shows you how many links you've lost and gained. If you click on a date on the calendar, you'll see a list of the links that you lost and/or gained. However, as is the case with any system, sometimes you'll see something that needs to be double-checked.
In my case, a link was shown to be lost but I double-checked and sure enough, it was actually still there, so don't freak out about lost links. There could be various reasons why a link is reported as lost. It's very cool to be able to see your new links by date as well.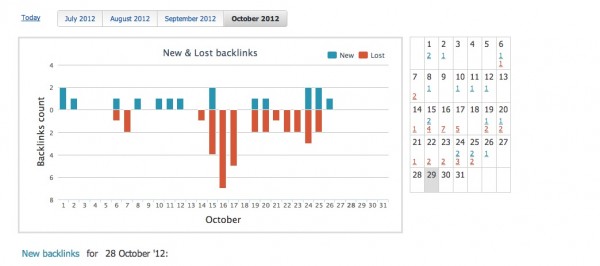 The Backlinks Report is also graphics-heavy and very easy to understand at a glance. You're brought to an overview screen initially so you can see your subdomains, referring domains, anchors, target pages, and TLDs broken down nicely here, and some of the sections list out the top values which have corresponding links to other reports, so the potential for almost getting lost in analysis is high if you're a data junkie.
Let's click on the Backlinks tab and go through that. Each of your links is listed out with an Ahrefs Rank (their proprietary metric), social information for Google Plus/Facebook/Twitter, target page, anchor used, the type of link, and when the link was last updated in their system.
Again, much of this information has links that can lead you to more detailed reports. Your list of links is listed by Ahrefs Rank from highest to lowest but the whole report is very sortable depending upon how you want to view it. It's also exportable.
Here's what you'll see, and note the filtering capacity up top:


While we're on the subject of Ahrefs Rank, let's point out what that metric is. It's kind of like Google's PR (or any other tool set's proprietary metric for evaluating pages) but you can read more about it on their FAQs page, which also lists some other great information.
What I really like here is seeing the social data for the sites linking to my site. Obviously, you can have some great older links that have no social love going on because when those links were placed, we weren't Twitter-happy for example (like the Sphinn link in my above example), but I do think this is very valuable information for your newer links.
The Pages view is nice and lists all your site's pages along with the Ahrefs rank, social information, number of backlinks, how many nofollowed links, number of linking domains, IPs, and subnets.
If you click on a page you see more information about the links coming to it, including the anchor, types of links, and when the system last updated the information. I love this for finding social mentions of pages because in digging through those, there were some that I had not seen for Google Plus.
The Domains tab lists your referring domains and is set to list them alphabetically by default, but you can change how they're sorted. In using this, I would always sort by another metric whether it's Ahrefs or the number of backlinks but to be honest, seeing your domains listed alphabetically may cause you to notice some that you hadn't always paid as much attention to. You can click on a domain and then be directed to a link report for it, so if you're interested in that, this is a good section for you.
The IPs and Subnets sections may not be ones that everyone uses, but when you're dealing with a massive link account, this is fantastic information.
This section is currently in Beta but it's too interesting to pass up. You enter a keyword and a URL and choose which version of Google you want to run the tool on, whether it's .com or one of about 20 country-specific versions.
For example, I ran a test on the keyword "link building" for my linkfishmedia.com site, in Google.com. Here's what I got:



This shows the URLs ranking for that term along with valuable data about them, such as the number of referring domains to those pages, the number of referring domains to the root domain, and social information. You also get a small graph that charts their backlinks.
After the top 10 are listed, you'll see the information for the URL that you entered so you can compare it to the top 10. You then get a great little section of charts that sum up your competition compared to you.
This tool took the longest of any to run, but again, it's in beta, and it's still faster than some tools. As mentioned before about social data, I couldn't always load that information. Google Page Rank wasn't working at one point either.
Pros
Cons
My only issue with this tool was that I did not always get social data the first time I ran a report, and at one point I couldn't pull any Google Page Rank information either.
In case you couldn't tell, I love this tool. I was not asked to review it (sometimes that happens) but instead chose to simply because I use it and think it's that good. They have live support in case you need it but as I said, it's incredibly intuitive. I think this tool is poised to become a massive player in the market.
Opinions expressed in this article are those of the guest author and not necessarily Search Engine Land. Staff authors are listed here.
Related Stories
New on Search Engine Land
About The Author
Related Topics
Get the daily newsletter search marketers rely on.
Processing…Please wait.
See terms.
Learn actionable search marketing tactics that can help you drive more traffic, leads, and revenue.
August 16-17, 2022: Master Classes
September 29-30, 2022: SMX Advanced Europe
November 15-16, 2022: SMX Next
March 15-16, 2023: SMX Munich
Discover time-saving technologies and actionable tactics that can help you overcome crucial marketing challenges.
Start Discovering Now: Spring (virtual)
September 28-29, 2022: Fall (virtual)
If the Customer is Always Right, Your Technology Should be Too
Consumer Loyalty Trends to Watch that Make or Break Brand Relationships
Has "Content" Become a Dirty Word?
Enterprise Marketing Performance Management Platforms: A Marketer's Guide
Enterprise Customer Journey Orchestration Platforms: A Marketer's Guide
Enterprise Account-Based Marketing Platforms: A Marketer's Guide
The Connected TV Terminology Cheat Sheet for B2B Marketers
Receive daily search news and analysis.
Processing…Please wait.
Topics
Our Events
About
Follow Us
© 2022 Third Door Media, Inc. All rights reserved.